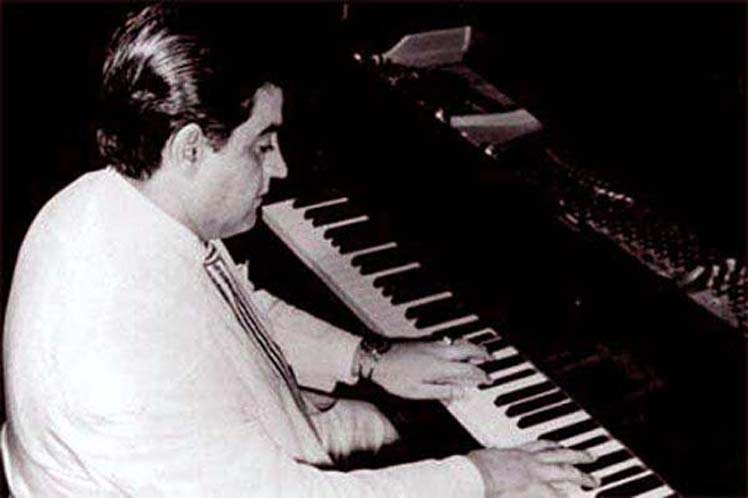 Cuban composer, arranger, pianist and orchestra conductor Adolfo Guzman
Havana, May 7 (RHC)-- The album entitled 'No te puedo olvidar. Centenario', dedicated to pianist, composer, arranger and orchestra conductor Adolfo Guzmán is nominated to this year's 24th edition of Cubadisco Awards.
Released under EGREM label, the CD, produced by Jorge Rodríguez, competes in the category of music archive.
It was released in 2020 on the 100th birthday anniversary of Guzmán, who is considered one of the main composers of filin, a Cuban popular song fashion of the late 1940s to the early 1960s, rooted in the bolero and the canción genres.
The new album includes iconic pieces from Guzmán's vast repertoire as a composer, also of instrumental and classical music.
Besides the nomination of this new album to the top prize of the Cuban music industry, a national homage-paying campaign was launched in late March leading up to May 13th, which marks the 101st birthday anniversary of Adolfo Guzmán.
The first action was a concert online on April 10th, streamed on social networks and the YouTube channel of the Ministry of Culture. It featured young musicians performing emblematic tunes composed by Guzmán.
With artistic direction by tenor Hugo Oslé, the online show involved soloists from the catalog of the Adolfo Guzmán Music Company, the Mariana de Gonich Singing Academy and dance companies.
The program of activities included also the opening on April 15th of the photo gallery entitled Profecía (Prophecy) after the iconic tune written by the prolific author. It comprises previously unpublished photos of Adolfo Guzmán donated by his daughter.
A second concert online in homage to Guzmán was held on April 23rd. It featured Isla Caribe orchestra, conducted by Frank Boza.
A special commemorative gala will be streamed on May 13th, from Teatro América, with artistic direction by maestro Jorge Alfaro.