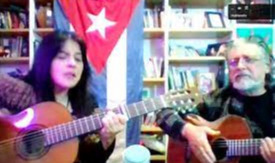 Trova musician Paula Ferré
Havana, July 28 (RHC)-- Argentinian trova musician Paula Ferré gave a virtual concert, which she dedicated to Cuba, its people and their Revolution.
Ferré sang emblematic pieces by Latin American composers like Victor Jara, Silvio Rodríguez and Violeta Parra, that promote regional integration, unity among Latin American and Caribbean peoples, which National Hero José Martí called Our America.
Chilean musician Cecilia Laborde sang the song 'Al amparo de la luna', which she said she wrote during one of her frequent trips to Cuba and is dedicated to beautiful Cuba and its warm, hospitable people.
In the virtual concert, the Argentinian trova musician and her guests demanded the lifting of Washington's economic, commercial and financial blockade, which has been further tightened amidst the Covid-19 pandemic.
Paula Ferré is the founding director of Casa Museo De La Trova Argentina.
Entitled 'Canciones contra el bloqueo' or 'Songs Vs. Blockade', the virtual concert was as part of actions organized by solidarity with Cuba groups in the South American nation to mark July 26 –National Rebellion Day in Cuba—on the 68th anniversary this year of the 1953 attacks on the Moncada and Carlos Manuel de Céspedes barracks in eastern Cuba by a group of revolutionaries led by then young lawyer Fidel Castro.
Other actions by the solidarity with Cuba movement in Argentina include a campaign to collect disposable syringes for the mass immunization campaign against Covid-19 on the Caribbean island state.