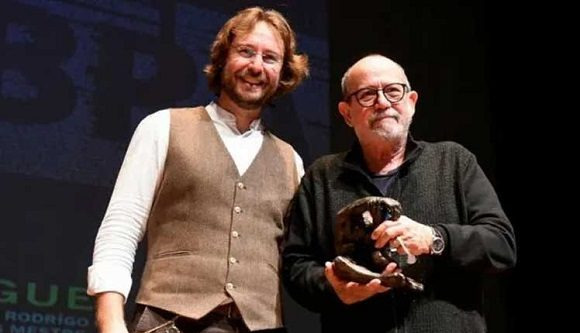 Silvio Rodriguez presented with Leteo Prize in Spain
Havana, Sept. 29 (RHC)-- Singer-songwriter Silvio Rodríguez highlighted Cuban cultural achievements over the past six decades of Revolution. His remarks came at a ceremony Monday, during which the Cuban trova musician was presented with the Leteo Award, granted by the Leteo Cultural Club, located in the Spanish city of Leon.
The award, which has been awarded before to other renowned artists from Spain and other nations, is in recognition for Silvio's "commitment to the word as an antidote to everything that threatens human dignity and as a safeguard of knowledge, beauty and thought."
On Sunday, Silvio performed at the Miguel Ríos Rivas-Vaciamadrid auditorium in Madrid, at the closing of festivities marking the 100th anniversary of the Communist Party of Spain.
Another performance is planned for October 2nd, at the Wizink Center also in Madrid, as part of his current tour entitled 'La espera terminó'. The author of Ojalá and El Unicornio Azul announced that the proceeds of his two concerts in Madrid will be used to purchase medicines for the Cuban healthcare system.
Upon receiving the Leteo Award, Silvio explained that access to culture is a human right protected and promoted in Cuba and artistic training is free at all levels, which is why 62 years of Revolution have created an enormous source of great talent in the most diverse disciplines.
In presenting Silvio Rodríguez with the award, the director of the Leteo Cultural Club, Rafael Saravia, underscored that Silvio's music has accompanied and influenced several generations in Cuba, Latin America, Spain and around the world.