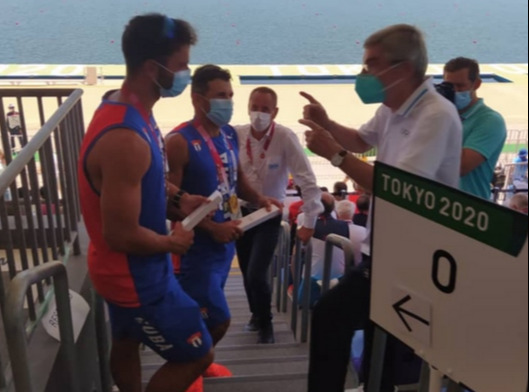 ​Thomas Bach personally congratulates Cuban canoe champions​
Tokyo, August 5 (RHC)-- The president of the International Olympic Committee, German Thomas Bach, greeted Cuban canoeists Serguey Torres and Fernando Dayán Jorge on Thursday during a visit to the Sea Forest Canal.
Shortly after arriving at the facility, the Cubans were informed of Bach's interest in meeting them, which took place in the VIP area of the grandstand, with the waters in which they imposed themselves in the background.
"We weren't expecting it.  It took us by surprise, but it was incredible.  We were able to express our gratitude to him for taking the time to come here and I personally thanked him for keeping our dream alive and being able to materialize it here," commented Serguey just minutes after the meeting.
"I think he felt dignified with us and we could feel it in his words," also expressed the leader of this sport on the island, amid the siege of admirers who did not miss the opportunity to take a picture with him and his medal.
"It is incredible to be able to share even a moment with such a personality.  He gave us the opportunity to be here, to be able to win this medal after our dreams were almost lost due to the pandemic.  It was sensational that he came to congratulate us," said Dayán, focused on his individual competition starting this Friday.
Serguey and Dayán won Cuba's first Gold medal in the sport by dominating the C2-1000 meters.  The result is also unprecedented in Latin America.
Bach presented the champions with Swatch watches, part of the limited edition made for the Games of the XXXII Olympiad.