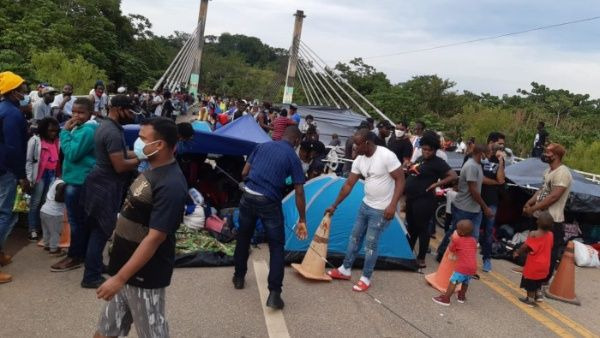 Migrants denounced that coyotes charge Haitians up to 40 dollars to cross the border. | Photo: Joaninha H. Madeira - REPAM
Brasilia, February 16 (RHC)-- Dozens of Haitian migrants in Brazil held a protest at the border with Peru, where Peruvian police prevented their entry.
In a series of messages posted on his Twitter account, teleSUR's correspondent in Brazil, Nacho Lemus, indicated that between 200 and 300 Haitian immigrants protested on the Integration Bridge, on the Brazil-Peru border.
"Affected by the Brazilian economic crisis, they are seeking to return to their country or go to another country in the region," said Lemus.  He explained that migrants from the Caribbean country warned that there is no chance of survival in Brazilian asylums during the coronavirus pandemic.
The journalist commented that the Haitians would spend the night camped on the bridge waiting for a solution from the Peruvian police.  "They are pressuring them to open the passage of trucks," he said. 
He said that, according to testimonies of the migrants, "they are making a lot of money with the border closed. The canoes come and go.  The coyotes charge up to U$40 to Haitians to cross the border and U$200 to go to Puerto Maldonado (Peru)."