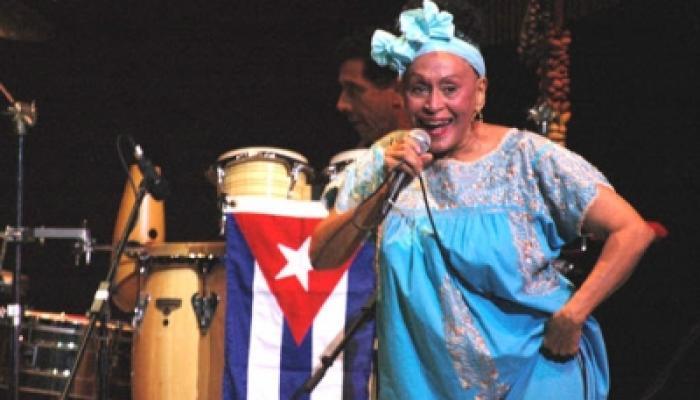 Havana, October 28th (RHC) Dedicated for more than 70 years to culture and to promoting Cuban music worldwide, singer Omara Portuondo celebrates life this Wednesday with an online concert alongside artists from several countries.
From the Teatro Sauto in the western province of Matanzas, "the Bride of Feeling" invites you to wait for her 90th birthday, accompanied by groups from the Caribbean nation such as Los Muñequitos de Matanzas, the Failde Orchestra, and the Teatro de Las Estaciones group.
Also joining the evening scheduled for 21:00 local time, the interpreter Haydée Milanés, with whom she recently collaborated in the production of the album Amor and the Peruvian Eva Ayllón and the Guatemalan Gaby Moreno.
This October 29th, the emblematic Cuban singer turns 90. For the anniversary, the Caribbean nation's culture pays tribute to the prolific career of the well-known "Buena Vista Social Club diva."
As part of the tributes, the Music Recording and Publishing Company is preparing a phonogram dedicated to her. 
At the same time, Cuban record label Bis Music has honored the artist with the release of the Mariposas CD, nominated in the Best Contemporary Album/Tropical Fusion category at the 21st edition of the Latin Grammy Awards.
Also, an animated video clip, made by Alejandro Armada with the sponsorship of several cultural institutions has been released. It covers important moments in the life and work of the artist.
The celebration of the singer's nine decades began in January with the Jazz Plaza International Festival's closing concert. She performed classics from her repertoire with pianist Roberto Fonseca.
With 30 albums as a soloist, Portuondo holds the distinction of Ambassador of the International Red Cross, the Latin Grammy for Musical Excellence, and the Gold Medal for Merit in the Fine Arts awarded by the Spanish government, among other distinctions.