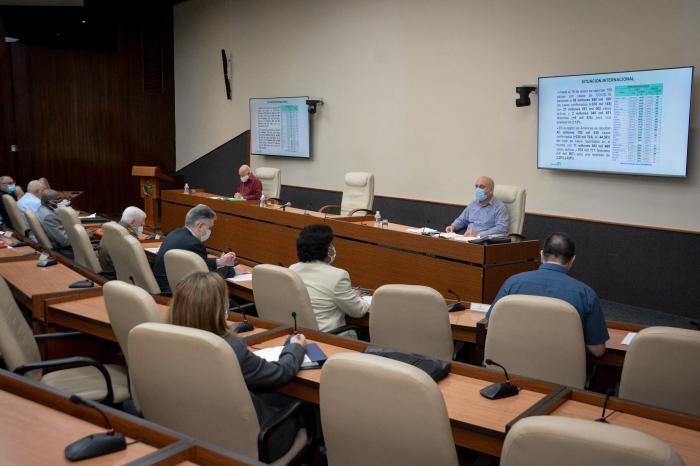 Reunión con científicos que analizan situación de la pandemia en Cuba.
The announcement came from the Government's Temporary Working Group's latest meeting for the Prevention and Control of the Pandemic held Tuesday.
The enlistment of facilities of the Ministry of Tourism is also taking place to facilitate the quarantine of medical personnel working in the red zone.
Doctor José Angel Portal Miranda, head of the Ministry of Public Health, said that since the beginning of the pandemic, 18 773 cases have been confirmed.
According to Havana University estimates, in the coming days, Cuba should face an increase in the confirmed cases of COVID-19 in the three possible scenarios: high, medium, or low, for which authorities should reinforce epidemiological work.
Given the foreseen updating of the prognosis models, which alert about a situation that could appear and deteriorate Dr. Ileana Morales Suárez, Director of Science and Technological Innovation of Minsap, informed that they are working on the improvement of the Cuban protocol to face the pandemic.
Dr. Roberto Morales Ojeda, Deputy Prime Minister, who led the meeting, indicated - based on the strength of the Cuban Health System and together with the organizations, the agencies, and the people in general - to work with the opportunity demanded by the moment, to increase the active participation and the perception of risk and danger.349 new