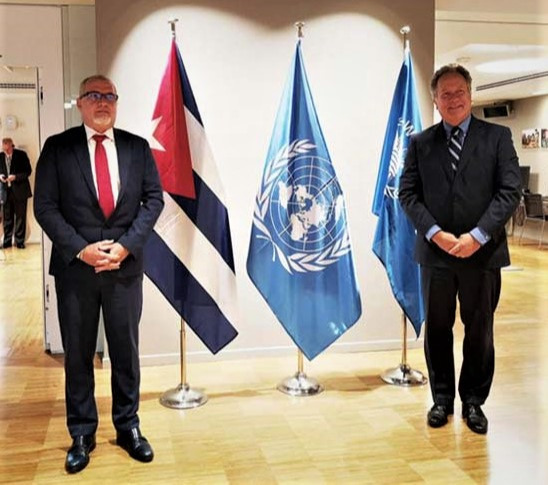 Cuban Ambassador José Carlos Rodríguez (left), and WFP director, David Beasly.
Rome, Jun 10 (RHC)--The executive director of the World Food Program (WFP), David Beasly, received Cuba's ambassador and permanent representative to the UN agency, José Carlos Rodríguez, the Caribbean mission informed Wednesday.
During the meeting in Rome, Beasly expressed satisfaction for the inclusion, for approval, of the Country Strategic Program (CSP) for Cuba in the agenda of the next meeting of the WFP Executive Board, to be held from 21 to Jun 24.
The CSP for Cuba will be the most important programmatic document of WFP's operational activities in that country, where it is estimated that its benefits will directly reach more than 1.5 million people, a press release said.
The ambassador ratified Cuba's recognition of the WFP and its work, 'both in terms of food assistance in emergencies and working with communities to improve nutrition and build resilience.
He also noted that WFP programs in his country align with the Social Development Goals until 2030 and the country's efforts to ensure food and nutrition for the population, considered top priorities by the Cuban government.
In that sense, he affirmed that the actions of the UN agency on the island 'have not only contributed to mitigate the impact of emerging situations caused by atmospheric phenomena and other effects of climate change', but also by the damages caused by the economic, commercial and financial blockade of the United States.