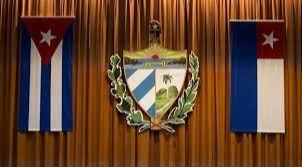 Havana, October 27 (RHC)--  The Seventh Ordinary Period of Sessions of the 9th Legislature of the National Assembly of People's Power, the island's Parliament, got underway Tuesday.
Deputies from Havana and others who represent other provinces who live in the capital are participating in person at the Convention Center, while the deputies from other provinces are participating online.
The two-day event will analyze, among other issues, key aspects for the country's economy, after previous activities where four bills were debated, and the study of key documents in the design and implementation of the necessary transformations of the Cuban society.
Reports on the economy in the first semester of 2021 and the Liquidation of the 2020 State Budget, the Opinion of the Economic Affairs Commission, the Ordering Task, and an update on the contributions of science to COVID-19 will be addressed.
On Tuesday, the leading role of the Party was highlighted as an expression of the unity of Cubans around the leadership of the Revolution and the need to foster the link in neighborhoods and communities.
The updating of the implementation of the Guidelines of the Economic and Social Policy of the Party and the Revolution, and the Conceptualization of the economic and social model of socialist development, approved at the 8th Congress of the Communist Party, were also