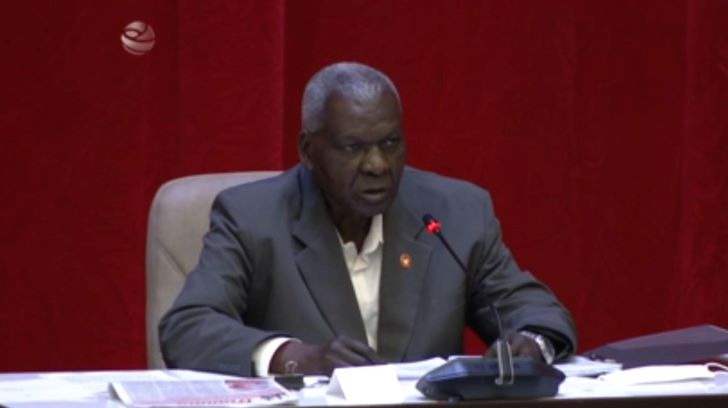 Esteban Lazo Hernández, president of the Cuban legislative body,
addresses lawmakers this October 27, 2021.
Havana, October 27 (RHC)— The Seventh Ordinary Session of the National Assembly of People's Power, in its Ninth Legislature, got underway at Havana's Convention Center  Wednesday morning.
In his opening remarks, Esteban Lazo Hernández, president of the legislative body, stressed that the sessions are taking place within the framework of the activities for the 45th anniversary of the local bodies of People's Power and after the Second Plenary Session of the Central Committee of the Party, where it was recognized that the strengthening of the work of this organization is essential for the continuity of the Revolution.
Lazo referred to the attempts of the U.S. government against the Cuban Revolution, the tightening of the blockade and the use of unconventional war manual methods to try to subvert the constitutional order.
Lazo recalled that the ordinary session was originally scheduled for July, but due to the surge of the COVID-19 on the island, it has to be postponed.
He expressed his hopes that the session corresponding to December is held with all deputies in person.
According to the Electoral Law, which establishes the procedure to fill vacancies of deputies, 13 new lawmakers were sworn in.
In the period from February to date, Lazo pointed out, five deputies had died, all of them with an extensive trajectory in the system of the People's Power and an outstanding revolutionary work.
The Cuban parliament meets with the presence of the President of the Republic, Miguel Díaz-Canel, and more than 90 percent of the deputies, via videoconference.
In view of the gradual recovery of the economy, it is up to all of us to contribute to Cuba's economic and social development, Lazo remarked, and acknowledged the efforts of scientists in the fight against the pandemic.
The session was attended by prestigious researchers with meritorious work in the fight against Covid-19, among them the 10 who were decorated as Labor Heroes of the Republic, three of whom are deputies.