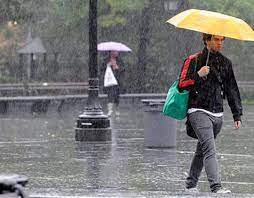 generico
Havana, June 3 (RHC)-- The rains that have been increasing since early morning are affecting western and central Cuba, and authorities and calling for permanent attention for the protection of human lives and the economy.
On Twitter, the Civil Defense Department recommended maintaining "hydrometeorological surveillance due to the situation created by the low-pressure area," which presents a wide and disorganized area of clouds.
This extends over the northwest of the Caribbean Sea and a large part of Cuba, said the Civil Defense, which called on the population and institutions to "be attentive to the information."
The main concern is the saturation of the soils due to the rainfall of the last few days, which can lead to some flooding in low areas and areas of faulty drainage.
According to the television weather report, during the early hours of Friday, rainfall increased, rising since yesterday and has reached accumulations of 100 millimeters in localities of the western province of Pinar del Río and on the Isle of Youth.
Significant accumulations were also reported in points of the western provinces of Artemisa and Matanzas and even in the province of Cienfuegos, in the south-central part of the island.
Forecasts indicate that this Friday "will be mostly cloudy throughout the archipelago, with showers, rains, and thunderstorms in the west and center, which will be stronger and locally intense in the country's west. In the eastern region, the showers will be scattered.
Also due to these weather conditions, Cubans are feeling unusually cool temperatures for the month of June, traditionally rainy but very warm, with highs that will fluctuate between 25 and 28 degrees Celsius in the western half of the country.