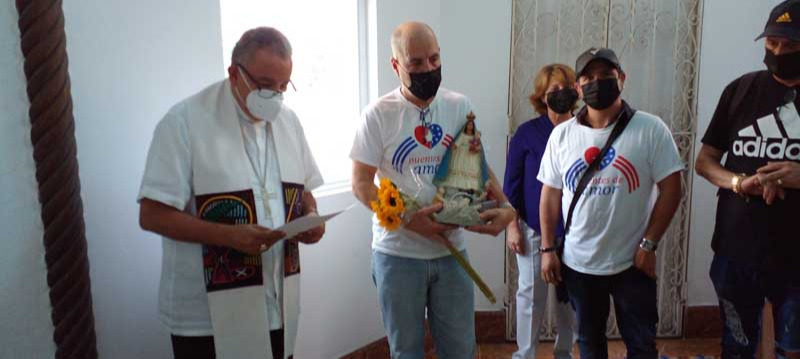 Buena Fe & Carlos Lazo in Panama
Panama City, Feb. 14 (RHC)-- Hours before returning home to Cuba on Saturday, Buena Fe duo performed at the official opening of the Cuba-Panama cultural center 'La Vitrina'.
An initiative of the José Martí Association of Cuban Residents in Panama, the new cultural center will promote works by Cuban and other Latin American creators.
Saturday's ceremony featured also renowned Panamanian trova musicians like Rómulo Castro, who sang tunes like 'Donde nos lleva la vida', 'Vuelven a volar las mariposas' and 'La Rosa de los Vientos'.
On hand were Spanish journalist and academic Ignacio Ramonet, Panamanian legislators, representatives of the Cuban and Venezuelan diplomatic missions in the Central American nation, Cubans who reside in Panama –members of the José Martí Association led by coordinator Humberto Pérez--, union leaders and representatives of solidarity with Cuba groups in Panama. They all raised their voices to condemn Washington's 60-year-old blockade policy toward Cuba.
In statements to the press, Ramonet praised the contribution of art and culture to the defense of the national identity and sovereignty of the dignified people of Cuba, who are determined to follow their own path and build a better future without foreign tutelage.
Prior to the ceremony on Saturday, the Cuban musicians, members of Buena Fe duo, and Carlos Lazo marched along with members of the José Martí Association of Cuban Residents in Panama from Don Bosco Church to the new cultural center, to demand the lifting of Washington's economic sanctions on Cuba.
Monsignor José Domingo Ulloa, Metropolitan Archbishop of Panama, took the opportunity to donate an effigy of Santa María de la Antigua, Patron Saint of Panama, to the Cuba-Panama cultural center.