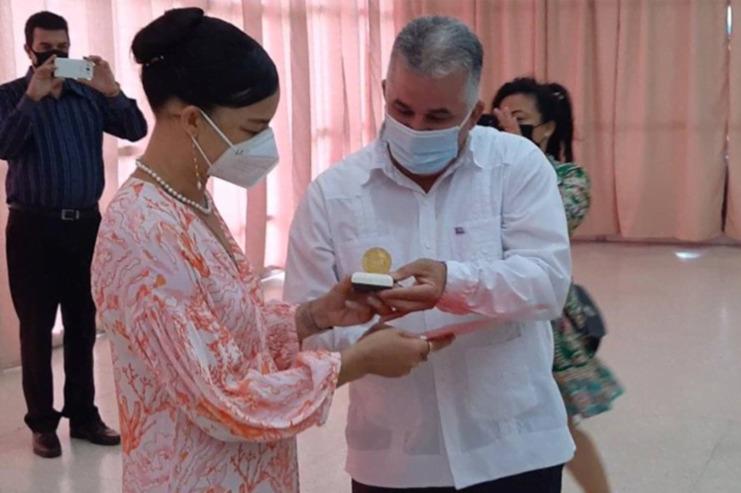 The dancer signified the high honor of receiving the recognition. Photo: Facebook @balletnacionaldecubaoficial
Havana, May 22 (RHC)-- Prima ballerina and director of the National Ballet of Cuba (BNC), Viengsay Valdes treasures this Sunday the coat of arms of Pinar del Rio, the highest distinction of the territory located in the westernmost tip of the island.
In a ceremony held the day before at the Los Pasos Hall of the Provincial Committee of the Communist Party of Cuba, Valdes received the award from the hands of the first secretary of the organization in Pinar del Rio, Yamilé Ramos and the governor, Ruben Ramos.
During the ceremony, framed in the season of presentations of the company at the José Jacinto Milanés Theater, the dancer expressed the high honor of receiving such recognition, which is a commitment to the defense and rescue of the specialty in that province.
She was also honored by the Union of Writers and Artists of Cuba and the local Provincial Directorate of Culture.
Viengsay Valdés highlighted the value of the Professional Art School of Pinar del Río, cradle of talented dancers who give prestige to the history of Cuban and universal dance.
The award is added to the awards given to the BNC director during 2022, among which are the Distinguished Visitor of Santiago de Cuba; the distinction of Distinguished Guest of the city of Bayamo, capital of the province of Granma; the replica of the door knocker of La Periquera, in Holguin; among several others.