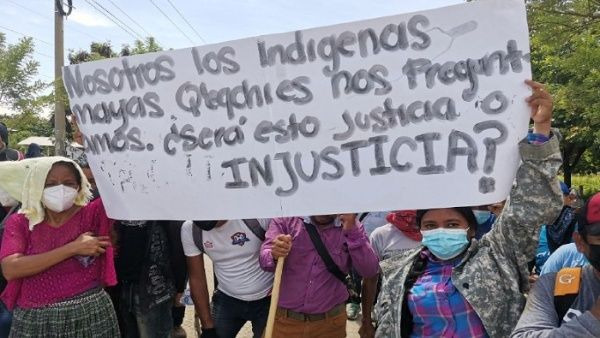 The Mayan Q'eqchi' people demand that the government stop intervening in their territory. | Photo: Prensa Comunitaria
Guatemala City, October 24 (RHC)-- In Guatemala, special forces of the National Civil Police (PNC) repressed members of the Mayan Q'eqchi' people of the municipality of El Estor, Department of Izabal, who have been gathering for days to reject the mining exploitation of their lands.
The officers fired firearms and threw tear gas bombs against protesters in anti-mining resistance, leaving several injured and many intoxicated by the gases.   Images and videos were disseminated through social networks showing that the PNC contingent had clubs near a resistance zone set up by the Maya Q'eqchi' people against Compañía Procesadora de Níquel de Izabal, S.A. (Pronico) and Mayaniquel.
"The villagers are crying out for solidarity in the face of this permanent harassment," declared Q'eqchi' activist and journalist, María Guarchaj.
For his part, the correspondent of teleSUR, Santiago Botón, said through the social network Twitter that "the indifference of the majority of social sectors and the total silence of the media on this onslaught of the Government predominates."
The Mayan Q'eqchi' Ancestral Council installed a protest since the first week of October to demand their right to the pre-consultation to be carried out by the Ministry of Energy and Mines (MEM) regarding the activities of the Fénix mine.
The Q'eqchi' people have been resisting mining for 19 days and are demanding an end to the violence against the ancestral authorities of El Estor, as well as an end to the intervention in their territories.