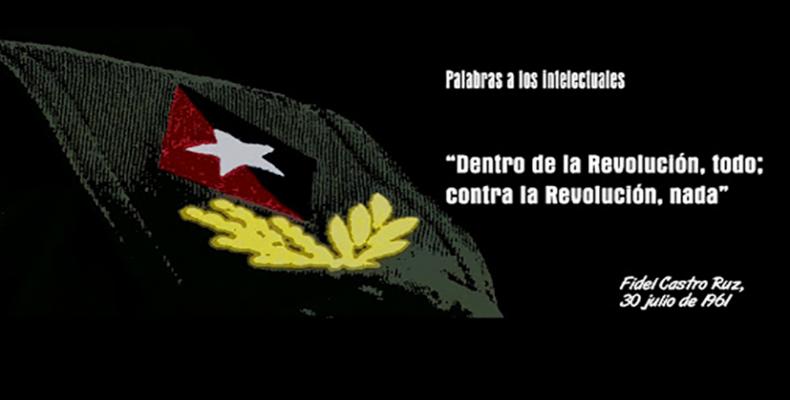 Havana, June 30 (RHC)-- June 30th, 2021 marks the 60th anniversary of the iconic speech by Revolution leader Fidel Castro to Cuban artists and intellectuals at the end of a series of meetings at Havana's José Martí National Library. Known as 'Palabras a los Intelectuales' or in English 'Words to Intellectuals', Fidel's speech defined the basic guidelines of what would become the Revolution's cultural policy to this date.
A new exhibition at the José Martí Library marks the anniversary. Entitled 'Palabras: imagen y posibilidad', and organized by Fototeca de Cuba and the National Council on Fine Arts, it compiles more than 200 photos, taken between 1959 until well into the 21st century.
The exhibit attests to the countless meetings that the Cuban revolutionary leaders held with Cuban and foreign intellectuals, representatives of different lines of thought, as further evidence of the constant, fruitful and open dialogue and exchanges between the leader of the Revolution and the artists, which significantly enriched the country's cultural policy.
A second exhibition by a group of artists at Galería Galiano Art Gallery, entitled 'Palabras, el valor de la memoria', also marks the anniversary.
It includes works by some 25 artists, young and established photographers, among them several National Fine Arts Prize laureates.
The inclusive, though heterogeneous exhibition reflects perfectly Cuban nationality and the country's cultural policy over the past 60 years, putting people at the center of every process.
In his remarks at the main event marking the 60th anniversary of 'Words to Intellectuals,' Cuban president Miguel Diaz-Canel insisted that the Revolution is the mother of the dazzling Cuban culture of our time, even of those who, for one reason or another, decided one day to break away from the revolutionary process, but have contributed their works to the nation's rich cultural heritage.