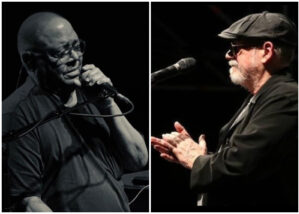 Silvio Rodriguez pays tribute to singer-songwriter Pablo Milanes
Havana, Nov 22 (RHC) Cuban poet and composer Silvio Rodriguez on Tuesday paid tribute to late singer-songwriter, Pablo Milanes, with the publication of an unpublished song he dedicated to him in 1969.

 "I met you tearing the chest of death one day; you didn't know anything and it was you that was holding its hand," reads the first verse of 'Pablo,' a song that Rodriguez posted on his personal blog.

Both musicians and Noel Nicola were pioneers and founders of what would later be known as the Cuban Nueva Trova.
Pablo Milanes was born in Bayamo, eastern Cuba, on February 24, 1943. He was being treated at a hospital in Madrid, Spain, due to an onco-hematological disease that he had suffered for several years.

Considered one of the key exponents of Spanish-language singers and songwriters, Milanes compiled a significant work for Cubans on the island and in other Latin American nations, with a repertoire of more than 400 songs.

Winner of two Latin Grammy Awards in 2006 and a statuette for Musical Excellence in 2015, he combined a mixture of genres and sonorities in the continent, which ranged between tradition and modernity.

His discography comprised filing, jazz, rumba, son, and bolero, deployed in 50 albums.

Milanes gave his last concert to thousands of people at Havana's Ciudad Deportiva Stadium, where sang iconic songs and others from his latest album Dias de Luz (Days of Light), whose promotional tour took him to stages in the United States and Spain. (Prensa Latina)