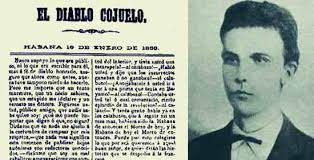 José Martí's work 'The Crippled Devil'
Havana, Jan. 20 (RHC)-- Cuban Prime Minister Manuel Marrero on Wednesday recalled the publication of the only edition of the newspaper "El Diablo Cojuelo" (The Lame Devil or The Crippled Devil) on January 19th, 1869, where Cuban National Hero Jose Marti published his first political writings at the age of 16.
Marrero resorted to Twitter to mark the 153rd anniversary of the publication, conceived by Marti together with his friend Fermin Valdés Dominguez.
El Diablo Cojuelo was a four-page printed flyer and its name is related to the homonymous novel by Luis Velez de Guevara, a renowned 17th-century writer. It included satirical notes related to events in Cuba under Spanish colonial rule.
As it is commented in the preface of the edition published in the Universal Collection, in 1919, it is "a quick vision of the life and society of that time, sparkling with ingenuity (...)."
The Cuban reality then was marked by extreme violence. In the eastern region, cruelty against peasants escalated because of the suspicion that they collaborated with the mambi army. A few days earlier, on January 12th, Bayamo residents burned down the city so that it would not fall into the hands of the Spaniards.
A few days after the publication of 'El Diablo Cojuelo', the tragic events at Havana's Villanueva theater took place, when a group of so-called volunteers - a pro-Spain paramilitary force -fired at the audience inside the theatre, who were chanting pro-independence slogans.
Young José Martí would later narrate the events for Revista Universal of Mexico. He wrote: "(...) they filled with corpses the Calzada de Jesús del Monte and the streets of Jesús María, and those that my mother went through to find me, (...).