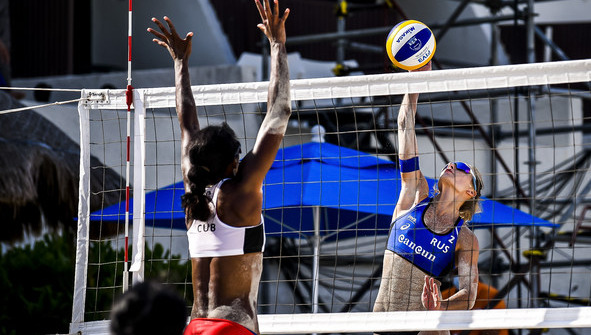 Cubans in the main draw of the beach volleyball world stage
Havana, April 29 (RHC)-- The beach volleyball duo of Lidianny Echevarria and Yanileydis Sanchez defeated the Dutch duo of Raisa Schoon and Katia Stam to advance to the main draw of the top 32 at the third stop of the World Beach Volleyball Circuit in Cancun, Mexico.
The Cubans were far superior and dominated the Dutch by a score of 2-0 (21-17, 21-11).   The Dutch duo, who a day earlier, had eliminated Leila Martinez and Maylen Delis (Cuba-A), who were unable to advance to the main draw.
"They prepared very well and the results have come out. We faced the first level, where mistakes are costly and they knew how to control their emotions," Alain Hernandez, coach of the Cuban duo, told JIT.
This Thursday, the Cubans Lidianni and Yanisleidys will face another of the top seeded couples in the main draw, the Chinese Wang and X.Y. Xia, number 13 in the ranking. Xia, number 13 in the world ranking.