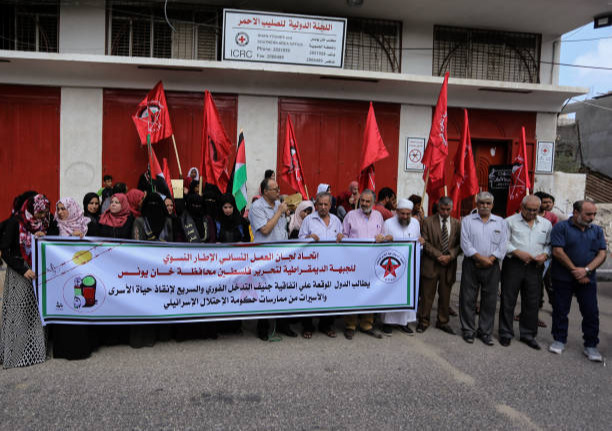 Protest in front of Red Cross in Gaza City (File photo)​​
Gaza City, November 30 (RHC)-- Prisoners' rights activists and families of Palestinian prisoners in Israeli prisons have held a sit-in inside the office of the International Committee of the Red Cross in Gaza.
They protested Israel's inhumane treatment of thousands of Palestinian political prisoners especially those on hunger-strike.  Palestinian prisoners see no end in sight to their suffering as hundreds of them are being held without charge or trial under the so-called administrative detention where incarceration periods can be renewed indefinitely.
Palestinian detainees have repeatedly resorted to open-ended hunger strikes in an attempt to express their outrage at their inhumane detention conditions.  Palestinian political prisoners are being held in more than two dozen Israeli prisons and detention centers.
They are also subjected to torture and psychological pressures by the Israeli prison authorities, including daily raids, and solitary confinement.   According to prisoners' advocacy groups the Israeli regime has imprisoned more than one million Palestinians including women and children since 1967 under the watchful eye of the international community.
People in Gaza City are calling on the international community to end its silence and help Palestinian prisoners.   Rights groups say that there are over 5,000 Palestinian prisoners inside Israeli jails, including about 500 held under administrative detention.