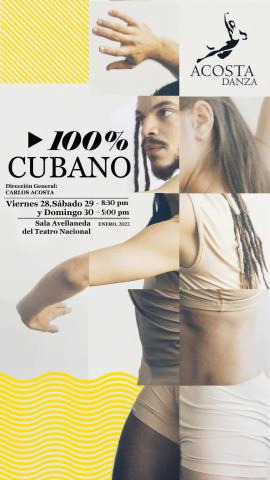 Acosta Danza to begin season dedicated to Cuba
Havana, January 22 (RHC)-- The Cuban dance company Acosta Danza, led by world-acclaimed dancer and choreographer Carlos Acosta, will perform their show '100% Cuban', at Avellaneda Hall of Teatro Nacional de Cuba, January 28th, 29th and 30th, this after a twelve-month absence due to COVID-19.
Highlights of the upcoming performance include two world premieres: 'Liberto', by Raúl Reinoso, inspired by Cuban literary works on slavery with original music by Pepe Gavilondo.
The other world premiere is 'Híbrido,' a choreographic work by Norge Cedeño, with music by Jenny Peña and Randy Araújo. It celebrates the resilience spirit of Cubans.
The works 'Paysage, soudain, la nuit,' by Pontus Lidberg, 'Impronta' by María Rovira and 'De punta a cabo', by Alexis Fernández (Maca), complete the program of the show.
Another highlight is the presentation to the public of the first graduates of the company's Academy, who as professional dancers now join Acosta Danza.
The troupe's repertoire includes choreographies by Carlos Acosta himself, Sidi Larbi Cherkaoui, Justin Peck, Marianela Boán, Goyo Montero, Saburo Teshigawara, Pontus Lidberg, Christopher Bruce, Rafael Bonachela, María Rovira, Jorge Crecis, Juliano Nunes, among many others.