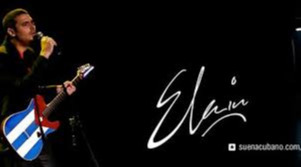 Elain Morales
Cuban musician Elaín Morales is currently on a national tour, promoting diversity and non-violence. The tour began in Havana with two concerts at Yara movie theatre in Havana on January 22nd and 23rd, during which he promoted tracks from his latest album 'Secretos' (Secrets).
The current tour, sponsored by the record and musical editions company EGREM, lasts through September and includes presentations in several provinces, including in universities, remote rural settlements and oncology wards of pediatric hospitals.
Elaín Morales, who is this year celebrating 22 years of artistic life, said he will take the opportunity to thank Cuban health professionals, who have been on the frontlines saving lives amidst the covid-19 pandemic.
Elaín Morales is being accompanied by young musicians, graduates from Cuban music schools, and a group of Friends, who will offer their audiences other attractive proposals beyond music, among them Havana Rum tasting, dinner concerts, in coordination with the hotel chain Isla Azul and the Cuban Brands La Estancia and Ciego Montero.