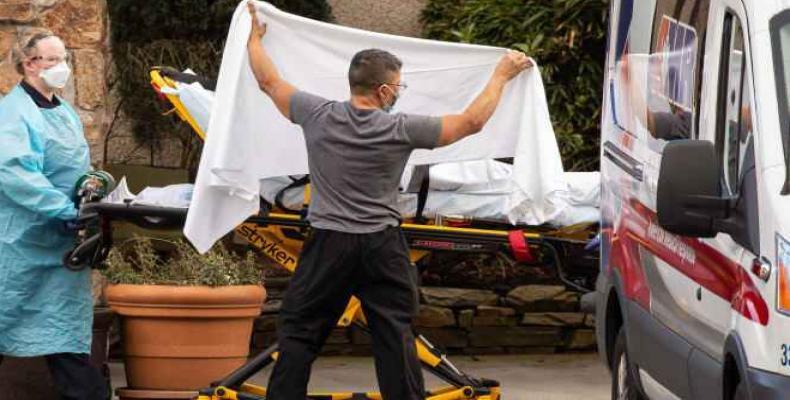 Washington, November 13 (RHC)-- The United States has once again shattered its own world record for daily coronavirus infections, reporting a staggering 163,000 cases.  Nearly 1,200 people died of COVID-19 in just the last 24 hours, and public health officials are warning of a humanitarian catastrophe as the virus continues to spread exponentially and hospitals are pushed beyond capacity.
California has become the second U.S. state with more than a million confirmed infections, joining Texas.
In Chicago, Mayor Lori Lightfoot has issued a 30-day stay-at-home advisory and will cap social gatherings at 10 people.
In Pennsylvania, prison officials are warning of a deadly "full-blown resurgence" of coronavirus.  Seventeen incarcerated people have died of COVID-19 in Pennsylvania during the pandemic — six of them since mid-October.
Meanwhile, one of President-elect Biden's top coronavirus advisers, epidemiologist Michael Osterholm, has proposed that Congress pass a relief package to allow U.S. residents to remain at home for a four-to-six-week lockdown to flatten the curve of transmission.
Michael Osterholm said: "If we did that, then we could lock down for four to six weeks.  And if we did that, we could drive the numbers down, like they've done in Asia, like they did in New Zealand and Australia.  And then we could really watch ourselves cruising into the vaccine availability in the first and second quarter of next year and bringing back the economy long before that."