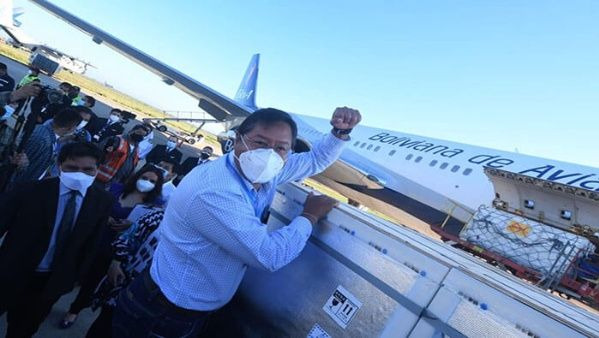 In addition to more than 330,000 doses of Sinopharm, 2.1 million medical supplies arrived in the country from China to address the pandemic. | Photo: @SaludDeportesBo
La Paz, May 12 (RHC)-- Bolivia has received oa batch of 334,400 doses of the Chinese vaccine Sinopharm, as part of several shipments that will arrive this week to the South American country to complete the 1.5 million vaccines announced by the Bolivian government.
The shipment was received by Bolivian President Luis Arce, together with several national and departmental authorities and the Chinese ambassador in the country, Huang Yazhong.
"At such an important moment for the country, the arrival of these vaccines is not more timely to clear any doubt that little by little more vaccines will be arriving for the Bolivian people," highlighted President Arce in a press conference.
Later this week, another shipment of anti-COVID vaccines is expected in Bolivia.  The Andean country now has doses of Russian Sputnik V, Chinese Sinopharm, AstraZeneca-Oxford and Pfizer vaccines. Other have been donated by the Chinese government and others obtained through the Covax mechanism, led by the World Health Organization (WHO).
To date, 741,658 people have received the first dose, according to the latest report of the Bolivian Ministry of Health.