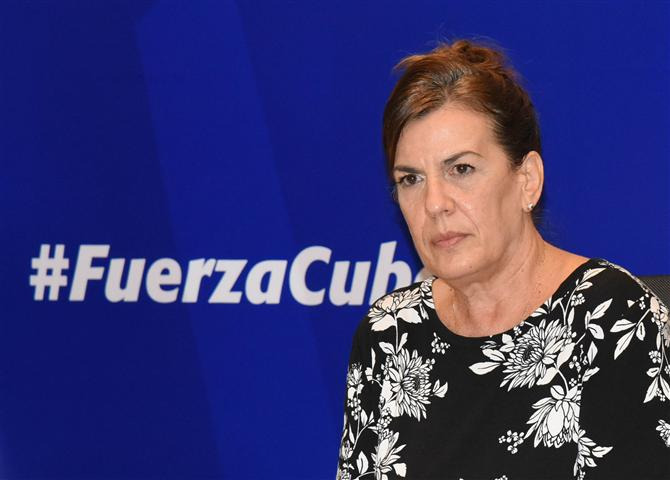 MINTUR´s spokeswoman Carmen Casal.
Havana, May 10 (RHC) -- Cuba will continue to be a destination of peace, security, tranquility, and solidarity, said Ministry of Tourism (MINTUR) spokeswoman Carmen Casal in a press statement on the events at the Saratoga hotel.
When asked about the probable effects on the island's image in international markets after the explosion at the hotel, Casal reaffirmed that there is confidence in the Caribbean nation as a destination.
"I am convinced that all the messages of support we have received from tourism ministers of different countries, commercial partners, tour operators, airlines, well-known personalities of the sector, and visitors, are tokens of support backed by this sentiment, " she emphasized.
We regret all the loss of human lives and the incident victims, said Casal, and pointed out that this is an unfortunate accident.
She recalled that the island continues its recovery of the leisure industry after the strong impact of the Covid-19, thanks to a strategy that has allowed to receive about 450 thousand international travelers in the first four months of the year.
"We will recover and develop tourism," she assured, adding that Cuba will continue to be a preferred destination for many.
Regarding what will happen with the Saratoga Hotel, the designated spokesman of the Gaviota Tourism Group, Roberto Enriquez, said that the priority is searching for the three people who were still missing.
When these works are concluded, a multidisciplinary team will delve into the situation of the property, and from there the proposal will be presented so that the competent bodies can take the corresponding decision, he said.
According to appraisals, Enriquez commented that the building is 80 percent damaged, but this has to be corroborated with the work of the specialists, on which will depend the actions to be taken in the emblematic facility.