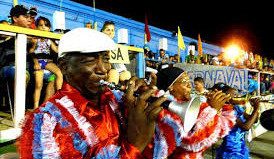 Santiago de Cuba
Santiago de Cuba, July 14 (RHC)-- The Latin Music Institute will designate eastern Santiago de Cuba as a reference Ibero-American city, this in recognition for its significant musical development over more than 3 centuries.
A communique issued by the Institute, headquartered in Mexico, says the recognition is in support of the campaign, seeking to include the eastern Cuban territory in the Creative Cities Network of the United Nations Educational, Scientific and Cultural Organization (UNESCO) in the area of Music.
The distinction is also in the framework of activities leading up to July 25th --the 506th anniversary of Santiago de Cuba, a Cuban territory with a rich cultural tradition that includes son, trova, conga, bolero and comparsa.
On the occasion, a commemorative plaque will be unveiled at Casa de la Trova in Santiago de Cuba, the work of Cuban sculptor Julio César Carmenaty and members of the Caguayo S.A. Cultural Project.