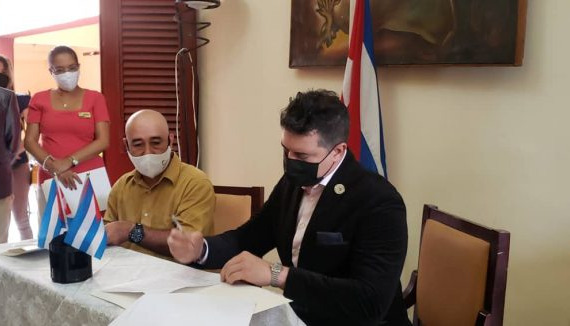 ILM &Casa Iberoamericana sign accord
Havana, May 26 (RHC)-- The Latin Music Institute (ILM) and the Holguin-based Casa Iberoamericana Cultural Center have signed a new agreement that provides for foreign artists linked to the Latin Music Institute to visit the eastern Cuban territory to perform and collaborate with local Cuban artists.
The Accord was signed by Latin Music Institute president Daniel Martín Subiaut and Eduardo Ávila, director of Casa Iberoamericana.
It provides for academic exchanges among intellectuals from Latin America, the Caribbean and Europe and promotes also the development of joint audiovisual and film projects.
The firs such project is entitled "Del Carnegie Hall al Caribe" (From Carnegie Hall to the Caribbean). With general direction by Latin Music Institute president Martin Subiaut, it will feature virtuoso musicians, among them Ecuadorian violinist Jorge Saade, Belgian tuba player Leonaar De Graeve and Cuban orchestra conductors Enrique Pérez Mesa and Oreste Saavedra.
The show will be presented as soon as the epidemiological situation allows for it at both the iconic Eddy Suñol theatre in Holguin province and at Havana's Teatro Nacional de Cuba.
The Latin Music Institute was founded in 1921 in Mexico City, aimed at boosting and promoting the work of great artists from the Ibero-American region. Meanwhile, Casa Iberoamericana was founded in 1993 in eastern Holguin province, dedicated to the study and promotion of Ibero-American art and history.