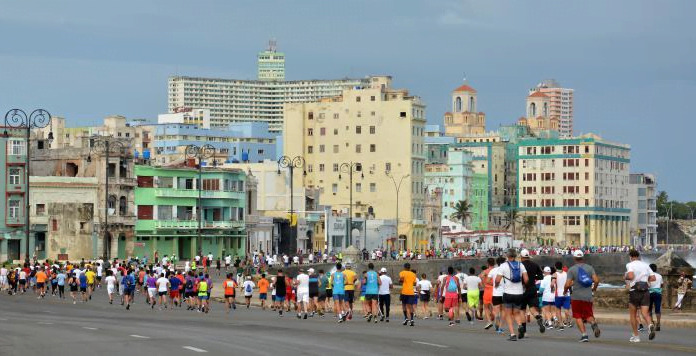 Marabana 2021 Photo: Ricardo López Hevia
Havana, November 21 (RHC)-- The 35th edition of Marabana was held this Sunday in person and only with Cuban runners in a number that amounted to three thousand walkers.
During the day, the 20th edition of Maracuba was also run in all provinces, municipalities, population centers and mountain areas of the country, at a distance of three kilometers (km).
Meanwhile, in the case of Marabana, the distance was 13 km, starting at Monserrate Avenue in front of the equestrian statue in the 13th March Park and finishing at the coliseum of the Sports City, ACN indicated.
The race was participative, not competitive; and as part of the sanitary protocols, runners had to wear their nasobuco at all times before the start in the blocks and could only take it off when they reached the Malecón. When entering the finish line, they had to put it on again.
These activities for peace, in opposition to the U.S. economic, commercial and financial blockade against Cuba and in support of the Revolution, are part of the commemorative celebrations for the 502nd anniversary of the founding of the town of San Cristobal de la Habana and also salute November 19, Physical Culture and Sports Day, ACN said.