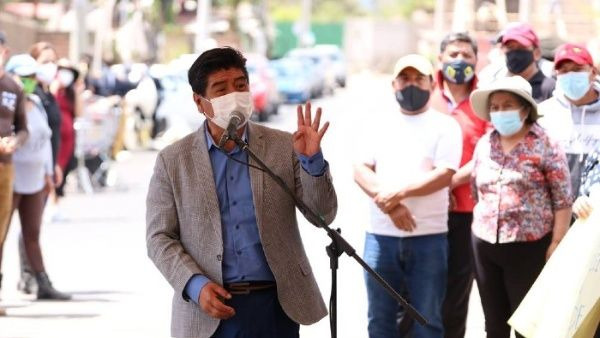 The demonstrations are called by sectors that support or do not support Mayor Jorge Yunda, who has plunged Quito's City Hall into a political crisis. | Photo: @vtv_ecuador
Quito, August 10 (RHC)-- Different social sectors announced a demonstrations in the capital of Ecuador in view of the political crisis that Quito's Mayor's Office, led by Mayor Jorge Yunda, is going through.
Protesters both in favor and against the mayor took part in demonstrations on Tuesday.  Some transport unions marchrf to enforce respect for the votes cast in the 2019 elections, won by Yunda to lead the Metropolitan Council.
"We are asking for democracy to be respected.  Ecuador is a constitutional state of rights," said the president of the Federation of Land Transportation of Pichincha and manager of the Union of Taxi Drivers of Quito, Carlos Brunis.
According to the president of the Quito Chamber of Commerce, Carlos Loaiza, more than 50 civil society organizations are requesting a response from the Ecuadorian Constitutional Court and also marched on Tuesday.
Meanwhile, the Chamber of Small and Medium Enterprises of Pichicha (Capeipi) called for a rally against the mayor, removed by the majority of the Metropolitan Council last June, and recently reinstated by a court.  Capeipi announced in a communiqué that the mobilization responds to the serious political and institutional crisis that exists in the city.