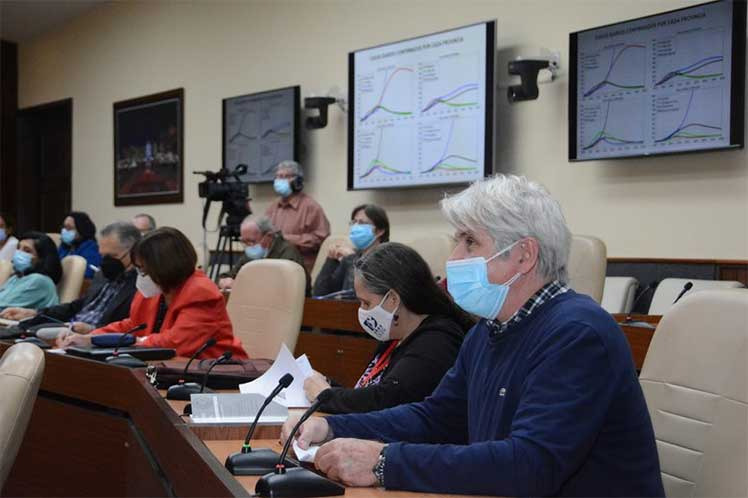 Havana, January 18 (RHC)-- Recent forecasts indicate that Cuba is going through the peak of the current outbreak of the Covid-19 pandemic and that there should be a rapid decrease in cases, experts informed President Miguel Díaz-Canel on Tuesday.
In a meeting with scientists to face the sanitary emergency, specialists insisted that to control the disease, the country must advance in the vaccination with booster doses against the disease caused by the SARS-CoV-2 coronavirus.
However, experts acknowledged that other forecasts point to the possibility of an increase in the number of infections in the coming days, hence the need to increase the rigor of the measures.
According to Dr. Raul Guinovart, several experts are convinced of the most favorable scenario, called to be attentive to the situation, and considered some control of the pandemic.
Epidemiologists recalled the behavior of the waves of contagion in other nations, so Cuba should enter a kind of plateau of confirmed cases before the decrease of these, and it is essential to advance in immunization, they said.
As part of the meeting, the director of Science and Technological Innovation at the Ministry of Public Health, Ileana Morales, presented the national vaccination strategy update.
She said that more than four million doses have already been administered, covering almost 50 percent of the population to be immunized on the Caribbean island.
Morales also recalled that the biopharmaceutical industry continues producing drugs to guarantee this process.
The meeting was also an opportunity to offer details on the clinical trials of Mambisa, the fruit of Cuban science, and one of the 11 vaccine candidates against Covid-19 by the nasal route that is being studied in the world.
In this regard, Doctor of Science Gerardo Guillén explained that it raised 15 times the antibody titers in the first phase of research in the subjects who received it.