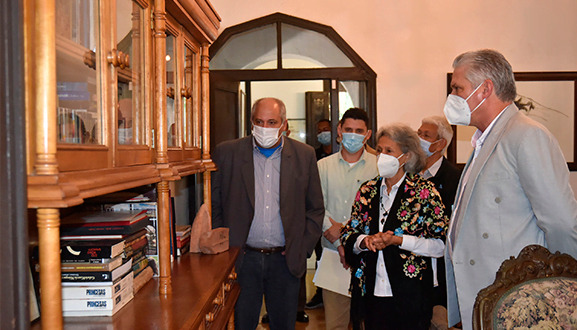 The Cuban president toured the facility accompanied by its director, Alquimia Peña, and the Minister of Culture, Alpidio Alonso, among other leaders of the cultural sector. Photo: Taken from @PresidenciaCuba.
Havana, February 8 (RHC)--Cuban President Miguel Díaz-Canel visited the headquarters of the New Latin American Film Foundation over the weekend. There, he underscored the role that Latin American filmmakers play in disseminating the reality of regional nations and peoples. 
Diaz-Canel stressed that Latin American film reflects our shared history, our culture and way of life, as well as our peoples' common challenges and aspirations. He renewed the Cuban government's full commitment to and support for a project that promotes and defends regional integration.
Created 35 years ago by filmmakers from 15 countries, the New Latin American Film Foundation always had the support of Cuban Revolution leader Fidel Castro and Colombian writer and 1982 Nobel Prize in Literature laureate Gabriel Garcia Marquez, Gabo, who served as president of the Havana-based prestigious institution linked to the New Latin American Film Movement.
The New Latin American Film Foundation celebrates its 35 years with a broad program of activities, ranging from campaigns on digital platforms to Latin American film seasons, workshops and panel discussions, among other actions.