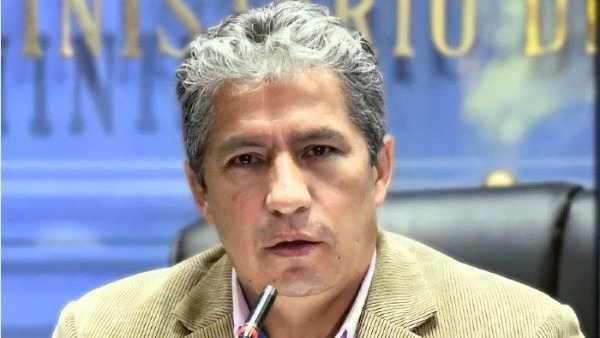 Bolivian Minister of Defense, Edmundo Novillo, warned about plan being implemented by the opposition against Luis Arce's government.
La Paz, October 4 (RHC)-- Bolivian Defense Minister Edmundo Novillo has denounced a destabilization plan against President Luis Arce by the country's civic committees, who together with the Santa Cruz governor's office, led by Luis Fernando Camacho, are preparing several actions, including a mobilization.
"We must warn at this juncture that there is a legal, democratic and constitutionally elected government by 55% of Bolivians and there is also a defeated opposition, and that is working, fundamentally, on its political objective for 14 years, of how and under what means it will take power again," said Novillo to local press media.
Novillo was responding to an interview regarding the Bolivian civic committees' call for a march against the Government scheduled for October 10 and a national strike for October 11.
"This opposition has a plan that is in the process of implementation, which is to generate a destabilization of a democratically elected Government," said the Minister of Defense in relation to the economic groups integrated with the Santa Cruz Civic Committee.
Among these opponents are the Santa Cruz businessmen with a social base of support from their political operators which are the civic committees, according to the member of Arce's Cabinet.  He also pointed to the Autonomous Departmental Government of Santa Cruz and asserted that in the face of an alleged absence of a development plan and "inability to manage" it articulates a discourse with alleged social demands.