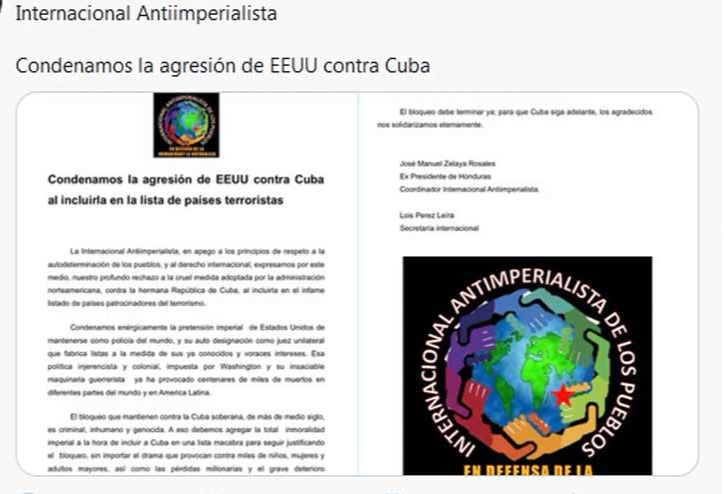 Documento
Tegucigalpa, February 7 (RHC) The Anti-Imperialist International, AI, condemned Cuba's inclusion on the list of countries that promote terrorism.
A statement posted on Twitter says that in adherence to the principles of respect and self-determination of peoples and international law, the AI expressed its rejection of the measure adopted on January 11 by the State Department, by the previous U.S. administration and described it as cruel.
"We strongly condemn Washington's imperial pretension to maintain itself as the world's policeman and its self-appointment as a unilateral judge that manufactures lists to suit its voracious interests," says the text signed by former Honduran President José Manuel Zelaya and Galician politician Lois Pérez Loira.
It recalls that this interference policy has already caused hundreds of thousands of deaths in Latin America and the world.
The text refers to Washington's economic, financial and commercial blockade on the Caribbean island for six decades as criminal, inhuman, and genocidal.
It is imperative that the new U.S. administration presided over by Joe Biden proceeds without delay to rectify this shameful act of political piracy, urges the IA text.
Out of respect for its people, the United States should abandon its arrogance of supremacy over the other countries of the planet, beginning with its abominable aggression against Cuba, the document states,
The blockade must end now so that Cuba can move forward; those of us who are grateful are in eternal solidarity, it urges at the end.
The proposal for creating the Anti-imperialist International was formulated by Zelaya in Mexico at the end of November within the framework of the XXIV International Seminar of the Workers Party, left.