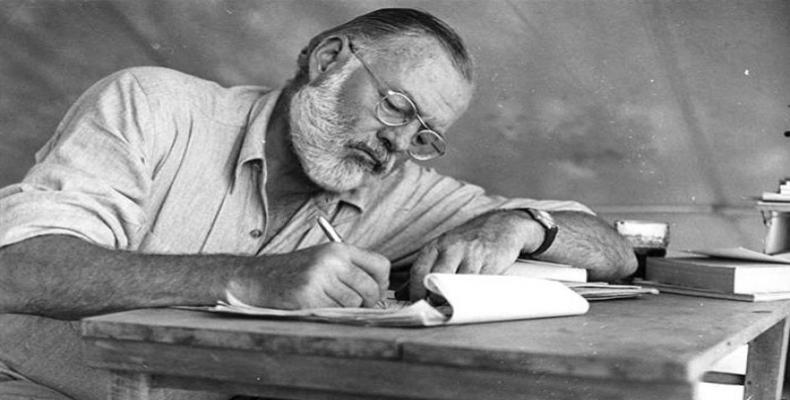 Havana, June 27 (RHC)-- U.S. Congressman James P. McGovern (D-MA), advocated the normalization of relations between his country and Cuba, in the framework of the 18th Ernest Hemingway International Colloquium, held virtually from Cuba June 24th through the 26th.
In a message through the platform Streaming Cuba, Jim McGovern, Chairman of the House Rules Committee and Co-Chair of the Tom Lantos Human Rights Commission, said that in honor of Hemingway, who made Cuba his home for more than 20 years and where he wrote seven books: 'we must resolve our differences in good faith, as neighbors, end the embargo and boost bilateral cooperation in areas of mutual interest.'
 'I long for the day when Americans can travel freely and visit Finca Vigía, which Hemingway loved so much,' said Congressman McGovern in reference to the Cuban home of the Pulitzer Prize laureate, donated by his widow to the Cuban people in the early years of the Revolution and which today houses the Ernest Hemingway Museum, one of the world's top institutions of its kind dedicated to the celebrated author.
Congressman Jim McGovern have long advocated normal relations between his country and Cuba, since he first visited the Caribbean island state in 1979, as a university student. Just this past Wednesday, he released a statement in response to the Biden administration's vote against a United Nations General Assembly resolution calling for the U.S. to end its decades-long economic blockade on Cuba:
The statement reads: "I am incredibly disappointed by this decision. Continuing Trump's backwards, irrational, and cruel approach to Cuba hurts the U.S. and Cuban people and prevents honest dialogue between our countries. Obama got it—he knew failed Cold-War policy held the U.S. back and he put us on a path toward diplomacy and constructive engagement. I strongly urge President Biden to change course."
Organized by the Ernest Hemingway Museum at Finca Vigía farm, the Colloquium had the participation of experts from United States, Canada, Japan and Cuba, who reflected on the life and work of the renowned American author.
The three-day event marked the 60th anniversary of the death of the author of the 'The Old Man and the Sea.'
The program included paper presentations, a virtual exhibition to display personal belongings of the Nobel and Pulitzer Prizes laureate, treasured in the institution that bears his name, and where he wrote some of his most iconic literary works, including 'For whom the bell tolls', 'Paris is a Feast' and 'Islands in the Stream'.
Other highlights included the presentation of the book 'Hemingway poeta enamorado,' or (Hemingway, a poet in love) by Cuban essayist and translator Carlos Peón, and a documentary film by American filmmakers Ken Burns and Lynn Novick, based on the personal archives donated by the widow of Hemingway to the John F. Kennedy Library in Boston.