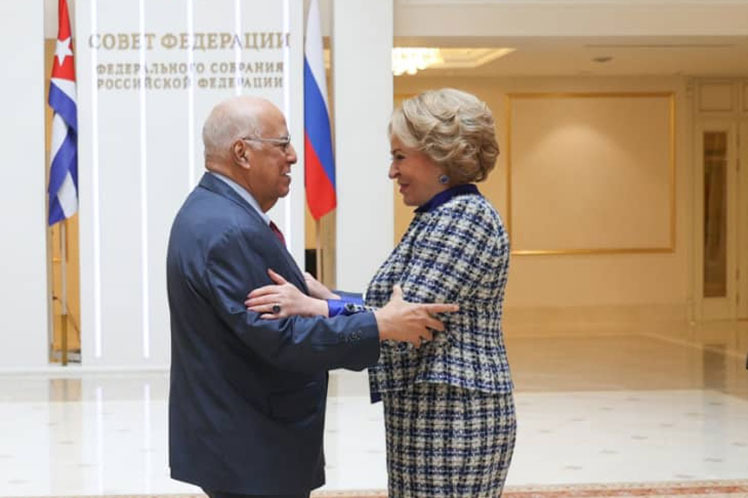 Moscow, June 20 (RHC)--The President of the Russian Federation Council (Senate), Valentina Matvienko, met in Moscow with Cuban Deputy Prime Minister Ricardo Cabrisas about the current state of bilateral cooperation.
During the meeting, the two leaders also exchanged on the role to be played by the parliaments of the respective countries to boost bilateral cooperation.
Cabrisas thanked the resolutions passed by the Federation Council since 2016 against the U.S.  blockade of Cuba and acknowledged the humanitarian aid provided by Russia to the Caribbean island in the difficult moments of the Covid-19 pandemic.
For his part, Matvienko reiterated the condemnation of Washington's genocidal policy and called for its elimination.
The Deputy Prime Minister conveyed the greetings of the top Cuban authorities, including that of the President of the National Assembly of People's Power, Esteban Lazo Hernandez, which was reciprocated by the head of the Russian Senate.
On Sunday, Cabrisas met with the President of the Communist Party of the Russian Federation (PCFR), Gennady Zyuganov, and executives of that political force.
During the dialogue, they discussed national and international current issues. They recalled the historical relations of solidarity, friendship, and brotherhood between the two peoples and governments.
Earlier, the high-ranking Cuban official had intense working days at the 25th edition of the St. Petersburg International Economic Forum (SPIEF).