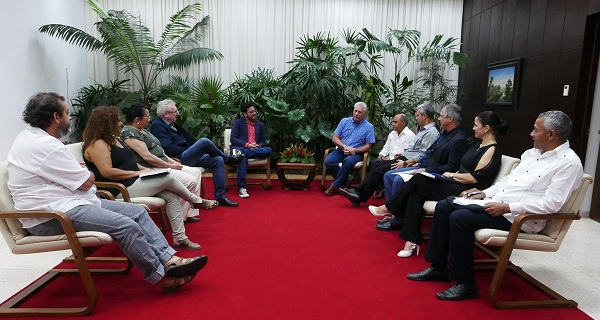 Havana, June 27 (RHC) Cuban President Miguel Díaz-Canel received on Monday afternoon a delegation from the Mayor's Office of the Brazilian municipality of Maricá currently visiting the island.
During their stay, they will exchange with representatives of different institutions to promote links with the biopharmaceutical industry and explore collaboration agreements in health, education, and culture.
The visit, coordinated by the Landless Movement of Brazil, is headed by Diego Zeidan Cardoso Siqueira, deputy mayor of that municipality, some 50 kilometers from Rio de Janeiro.
The delegation includes the mayor's Secretary of Science and Technology and Solange Regina de Oliveira, Secretary of Health.
Cardoso Siqueira underscored the recognition of his fellow citizens to Cuba's development in the scientific sector.
He commented on the contribution that the island could give them in the interest of his municipality, to diversify its economy, especially the pharmaceutical and biotechnology industry, in addition to agriculture and tourism.
For his part, the Cuban President sent greetings to Joao Pedro Stedile, leader of the Landless Movement, and highlighted the links in these and other areas that were expanded between Cuba and Brazil during the governments of Luis Inácio Lula da Silva and Dilma Rousseff.
Díaz-Canel pondered the potential for collaboration that could be developed between Maricá and Cuba and ratified to the Rio de Janeiro delegation his support in their interest.