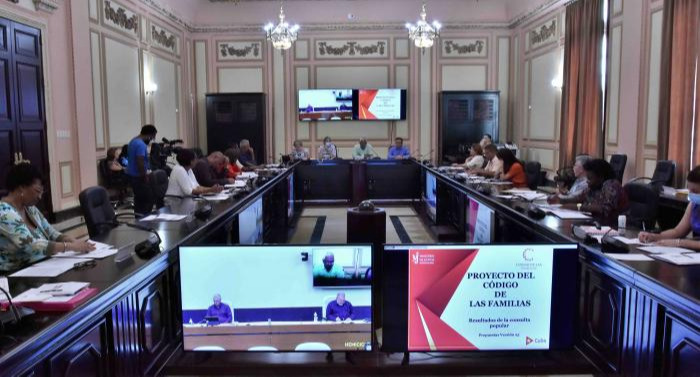 Havana, July 18 (RHC)-- The Council of State examined the draft Family Code before its presentation at the Ninth Ordinary Session of the National Assembly of People's Power in its Ninth Legislature.
At the meeting on Monday, attended by President Miguel Díaz-Canel Bermúdez and Prime Minister Manuel Marrero Cruz, Justice Minister Oscar Silvera Martínez delved into the results of the widespread consultation on the draft, in which 61.96% of the participants expressed their support for the text.
The Minister said deputies were consulted on version 25 of the bill; the proposal to the National Assembly of People's Power was approved regarding the rules for the referendum, the date of its holding, and the question to be asked to the voters.
Silvera Martínez also explained to the members of the Council of State the progress of compliance with the Legislative Schedule.
Since the proclamation of the Constitution on April 10, 2019, he said that so far, more than twenty laws and 79 decree laws have been approved. He indicated that it was decided to postpone for next year other normative provisions.
In other cases, it is being evaluated to request their extension due to the current context and the necessary definition of concepts in other legal norms.
With this update, 22 laws and eight decree laws will be approved by the year's end. With the realization of the referendum on the Family Code, all the transitory provisions of the Constitution of the Republic will be fulfilled.
He informed that the draft of the new Legislative Schedule for the next Legislature (2023-2028) is at an advanced definition stage.
The Council of State also addressed the control actions carried out by the Office of the Comptroller General of the Republic on the State Budget.