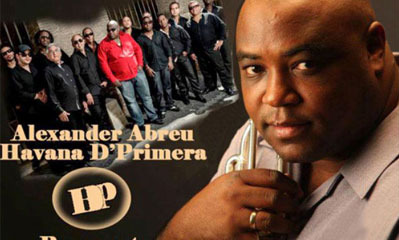 Havana, April 6 (RHC)-- Following the successful release on February 15th of the tune "Más rollo que película" on social media, Alexander Abreu and his band Havana D'Primera have just released a new music video for this single, from the album 'Será Que Se Acabó', produced by Páfata Productions & Producciones Abdala.
The single is available on digital platforms and the official music video is available on the YouTube channel of Alexander Abreu and Havana D'Primera.
Abreu, also a trumpet player and singer, thanked fans for the more than 20 thousand views and likes garnered by the track within just hours of its release on social media.
He insisted that the album compiles new, more contemporary versions of 20 timba tunes, Cuban hits from the 1980s and 90s. He stressed that the purpose is not to compete with the original versions, but to pay well-deserved tribute to the artists and the tunes themselves and to give the new generations of Cuban music lovers on the island and abroad a chance to enjoy them as well.
Regarding the public's reaction, Alexander Abreu said he is very happy. 'That is the greatest award we could ever wish for', he stressed.