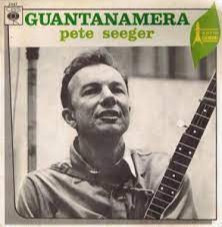 Pete Seeger sings Guantanamera
Havana, June 8 (RHC)—This June 8 marks 58 years since American folk singer and social activist Pete Seeger included Cuba's iconic tune 'Guantanamera' in his band's repertoire.
Seeger's version of the Cuban song 'Guantanamera' was released on his album "We Shall Overcome," recorded live at Carnegie Hall in 1963.
Seeger later urged American audiences to sing 'Guantanamera' in the original Spanish and not in translation.
Originally written by Cuban singer-songwriter Joseíto Fernández in 1932, the song would later become a patriotic Cuban anthem after Julián Orbón adapted stanzas from 'Versos Sencillos' by Cuban National Hero and poet José Martí as lyrics for the song.
Categorized by experts as a guajira son, there are more than 150 known versions of 'Guantanamera' by renowned Cuban and foreign artists. The iconic tune symbolizes Cuban identity and culture --a tangible proof that good art can overcome language and cultural barriers.