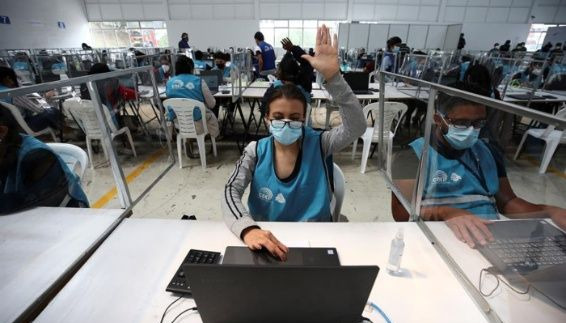 The recount applicants expect to recount 100 percent of the votes in Guayas and 50 percent in 16 other provinces. | Photo: EFE
Quito, February 16 (RHC)-- The National Electoral Council (CNE) of Ecuador canceled the meeting it had planned to hold in the city of Guayaquil to discuss the new scrutiny requested by the indigenous candidate Yaku Perez, due to his suspicions of fraud.
At the Plenary meeting, councilors were scheduled to analyze the agreement reached on Friday between the second and third place finishers in the elections of last February 7 -- Yaku Perez and Guillermo Lasso -- for a recount of 100 percent of the ballot boxes in Guayas, and 50 percent in sixteen other provinces.
The agreement was sponsored by the CNE itself, under observation of a mission of the Organization of American States (OAS), after Perez denounced a series of irregularities in numerous tally sheets, and with the consent of Lasso who this Sunday warned, in a letter to the electoral authority, that the new recount must adhere to the law.