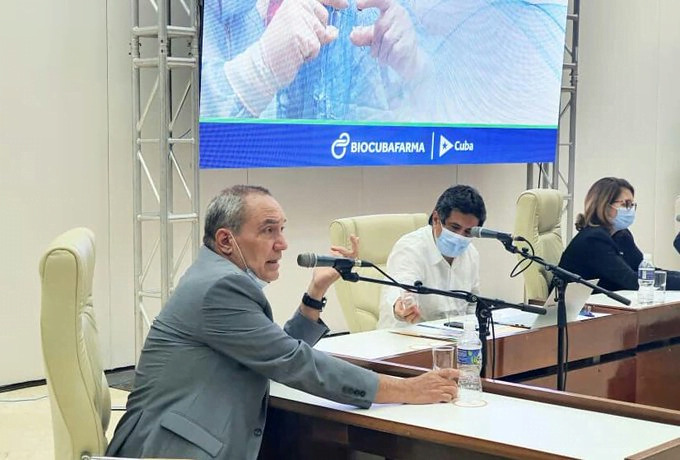 The director of the Finlay Vaccine Institute (IFV), Vicente Vérez, addreses the press, June 2, 2021.
Havana, June 3 (RHC)-- Cuba could begin an anti-Covid-19 clinical trial in the pediatric population in the next few days with the candidates Soberana 02 and Soberana Plus, informed the director of the Finlay Vaccine Institute (IFV), Vicente Vérez.
If approved by the Center for the State Control of Medicines, Equipment, and Medical Devices (CECMED), the protocol would involve children between three and 18 years of age for a phase I/II trial that would start next week in Havana", said the executive.
In a press conference, Vérez indicated that some 300 children would initially participate and would first receive the doses in a group between 18 and 12 years of age, to be later administered to those of three years of age.
He explained that the decision to proceed with the Soberana 02 and Soberana Plus products, developed by IFV, is due to the safety demonstrated by both candidates in their clinical trial phases, as well as in the intervention studies and the health intervention, in which the adverse events after vaccination have been mild or moderate.
Regarding the Soberana 01 candidate, Vérez announced that a second Phase trial would begin in the province of Cienfuegos at the end of June. The trial will also include children under 19 years of age.