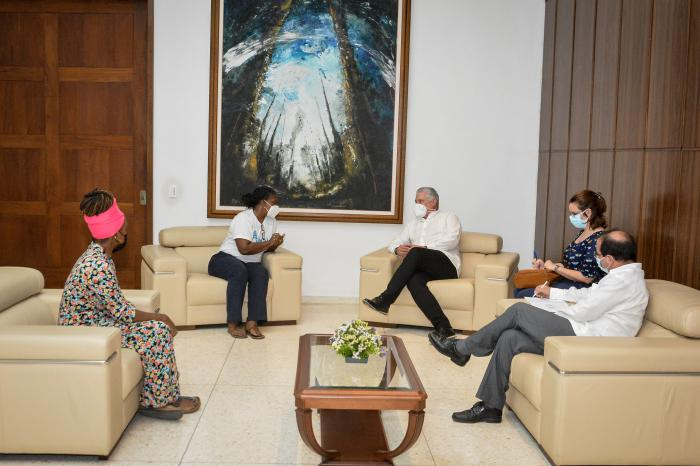 Havana, June 3 (RHC)--The First Secretary of the Central Committee of the Communist Party of Cuba and President of the Republic, Miguel Díaz-Canel Bermúdez, received Gail Walker, Executive Director of the IFCO/Pastors for Peace Organization on Wednesday.
In a friendly atmosphere, Gail expressed her commitment to continue organizing solidarity caravans with Cuba and intensify actions to lift the blockade.
She reiterated her admiration for the continuity of Fidel's work. She praised the work of the Cuban medical brigades in the fight against COVID-19 in different parts of the world.
During the encounter, President Diaz-Canel and Gail Walker evoked the close relationship between Commander in Chief Fidel Castro Ruz and the leader of Pastors for Peace Lucius Walker.
Also participating in the meeting were Samira Addrey, member of the executive of the U.S.organization and graduate of the Latin American School of Medicine, as well as Rogelio Polanco Fuentes, member of the Secretariat of the Central Committee of the Party, and Fernando González Llort, President of the Cuban Institute of Friendship with the Peoples, ICAP.