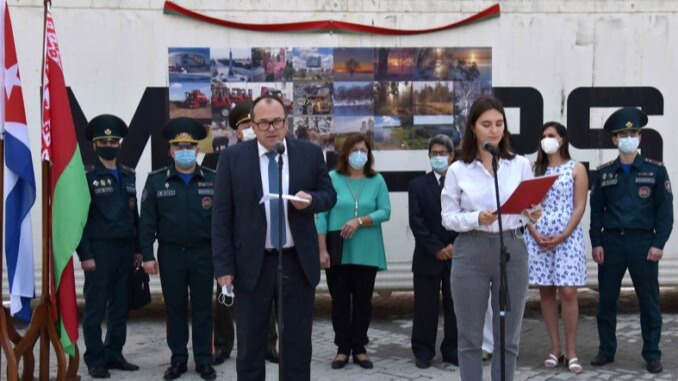 Act of gratitude by the government of Cuba to the government of Belarus, on the occasion of the donation
made at the Mariel Container Terminal, in Artemisa province, on February 18, 2022. Photo ACN
Havana, February 19 (RHC)-- A donation of medicines and foodstuffs from the people and government of Belarus arrived Friday in Cuba. The solidarity cargo will help fight against COVID-19 and alleviate the intensification of the blockade imposed by the United States.
The cargo was received at the Mariel Special Development Zone. Yamila Fernández del Busto, general director of Economy of the Ministry of Foreign Trade and Investment, expressed appreciation on behalf of all Cubans.
The diplomat condemned the unjust sanctions policy against Belarus, ratified the good state of the link between the two countries, and said that Cuba intends to strengthen bilateral trade.
This donation takes place in the framework of the 30th anniversary of establishing diplomatic relations between the two nations, which we intend to continue strengthening and diversifying in all areas, she stressed.
Igor Bolotov, deputy minister of Emergencies of the European territory, also referred to the strong ties of friendship and unity between the peoples of Cuba and Belarus.
For his part, Valery Baranovsky, Minsk ambassador in Havana, expressed his government's concern about the complex economic situation in the Caribbean nation due to COVID-19 and the U.S. siege.
He recalled and thanked the support of Cuba to thousands of children from the former Soviet Union, including Belarus, affected by the accident at the Chernobyl nuclear power plant in 1986.
He assured that in the next session of the Intergovernmental Commission, new agreements would be signed in health and agriculture, among other fundamental sectors for the development of the Cuban people.