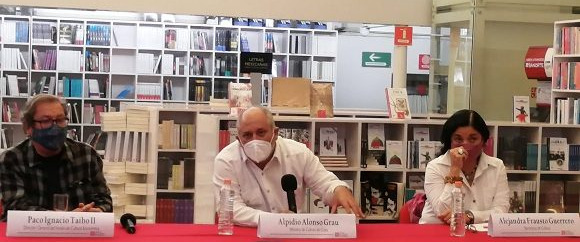 Mexico, guest country of honor at Cuba Book Fair 2022
Guanajuato, Oct. 19 (RHC)--Mexico will be the guest country of honor of the International Book Fair in Cuba, set for February 2022.
The announcement was made Monday, by Cuban Culture Minister Alpidio Alonso, from Mexico, where he is participating with a large delegation of Cuban artists in the 49th Cervantino International Festival, which has Cuba as guest country of honor.
In revealing the good news, Alpidio Alonso said Mexico has a vast literary tradition and pointed to close ties between the two nations over many centuries. He said that the Cuba book fair will serve as an opportunity for Cuban readers to gain access to the rich Mexican culture.
The Cuban culture minister further stressed that the designation is also a way to thank Mexico and its people for their traditional solidarity with and support for Cuba. He added that friendship ties between the two nations have gained new momentum under Mexican president Andrés Manuel López Obrador, and particularly after the visit of Cuban president Miguel Diaz-Canel to Mexico last September.
Mexican Secretary for Culture Alejandra Frausto Guerrero thanked the Cuban culture minister for the designation and pledged the participation in Cuba's largest annual cultural event of a large delegation of Mexican artists and intellectuals.
The Cuban minister of culture took the opportunity also to denounce a new campaign by Cuba enemies to try to sabotage the 14th Havana Biennial. He confirmed that the cultural event, the largest event in Cuba dedicated to contemporary art, will be held at the request of Cuban artists themselves.
'I condemn the ongoing campaign, exerting pressure on Cuban artists to try to use them as political actors to sabotage the Havana Biennial,' Alpidio Alonso stressed.
These destabilization actions, he said, are part of a larger campaign against Cuban culture in the framework of Washington's economic blockade against Cuba.
As part of activities in the framework of the 49th Cervantino Festival in Mexico, which has Cuba as guest country of honor, the Cuban culture minister and a representation of the large artistic delegation participating in the event, visited the municipality of Tuxpan, near Veracruz, from where Fidel Castro and 81 other revolutionaries departed for Cuba in late November 1956 to wage the final phase of Cuba's independence war.