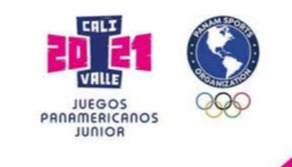 Cali-Valle 2021 Junior Pan American Games Logo
Havana, September 14 (RHC/JIT)-- Cuba has increased to 160 the number of qualifiers for the First Junior Pan American Games of Cali 2021, scheduled from November 25 to December 5.
Now the island has 68 women and 92 men in 24 disciplines, after confirming a space in track cycling, as reported to JIT the technical-methodological direction of Inder.
For the under-23 event, there are slots in badminton (2f and 2v), handball (14-14), baseball (22v), boxing (7v), canoeing (1-1), cycling (4-4), diving (4-4), fencing (2-3), rhythmic gymnastics (7f), karate (1v) and weightlifting (2-3).
Rounding out the list are Greco (6v), freestyle (6v) and women's wrestling (6), swimming (3-2), figure swimming (8-1), roller skating (2v), figure skating (1v), modern pentathlon (2-2), rowing (2f), table tennis (2-2), taekwondo (2-2), shooting (1v), archery (1-1), triathlon (2-2), sailing (2-1) and beach volleyball (2-2).
Qualifiers and invitees remain to be defined in athletics, judo and perhaps tennis. A pre-selection of more than 400 athletes is already being prepared at the Cerro Pelado and Giraldo Córdova Cardín high performance athlete training schools. In addition, classical and wrestling teams are training in Ciego de Avila.
More than 3,800 athletes under 23 years of age, in 39 disciplines, will meet in Cali, Palmira, Buga, Calima, Jamundí and Yumbo in their efforts to reach the main events of the next cycle: the Pan American Games in Santiago de Chile 2023 and the Olympic Games in Paris 2024.