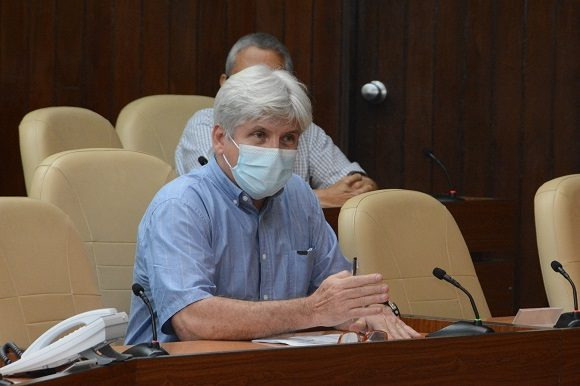 Dr. Raul Guinovart, Dean of the Faculty of Mathematics and Computer Science, Havana University.
.Havana, February 22 (RHC)-- Experts confirmed the decreasing trend of positive cases of COVID-19 in Cuba in a working meeting chaired by president Miguel Díaz-Canel.
Dr. Raul Guinovart, dean of the Faculty of Mathematics and Computer Science of the University of Havana, confirmed the decrease in the coming days of transmission and the progress towards control in all country regions.
However, the Cuban Prime Minister, Manuel Marrero, called not to be careless and keep the rigorousness in implementing sanitary measures.
On the other hand, scientists presented on Tuesday the results of a study on the impact of chronic kidney disease, the leading risk factor for mortality due to the SARS-CoV-2 virus.
According to a local television report, the multidisciplinary team of experts suggested implementing actions for the evolutionary control of the sequels left by the disease and insisted on revitalizing the screening program in primary health care.
The Cuban head of state called for the implementation of actions to give vitality to the nephrology program in the country and to do so through the contribution of science and engineering.
During the meeting, he also highlighted the positive effect of the massive anti-Covid-19 vaccination in the pediatric population.