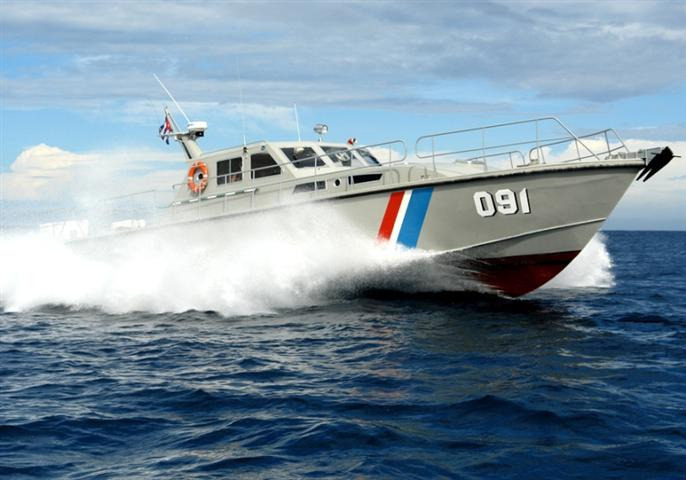 ilustrativa
Havana, June 27 (RHC)-- Cuba denounced on Monday the increase this year of incursions by speedboats from the United States to carry out human trafficking operations from the island to that country.
The  Ministry of the Interior (MININT), informed that its bodies had intercepted 13 speedboats with 23 crew members.
The press release also called attention to situations of greater violence and aggressiveness with firearms against the crews of the Border Guard troops.
On the afternoon of June 18, a speedboat from the United States was detected when it was sailing west of Fragoso key, north of the central province of Villa Clara, and which penetrated towards the coast of the municipality of Encrucijada.
The vessel was located by a Cuban interceptor boat. During the pursuit, one of the crew members of the intruder's vessel opened fire with a 556-millimeter automatic rifle, wounding one Cuban officer and impacting the unit with several bullets.
The note explains that the aggressor's vessel withdrew to the north. While, the Cuban vessel ceased the pursuit and evacuated the wounded crew member, who had to undergo surgery and is now out of danger.
The U.S. Coast Guard was informed in real-time of the incident and was requested to take action to detain the speedboat and its crew.
At the same time, MININT forces in Villa Clara detained a group of 30 people who would be trafficked to the United States, which are under investigation, the text indicates.
A similar event occurred at 12:57 local time that same day when a unit of border guard troops intercepted a speedboat model Dakota, registration FL2670JG, three nautical miles north of Bahia Honda, in western Cuba which also came from the United States.
When they were about to be identified, the offenders began to shoot, the Cuban crew responded to the attack, and one of the aggressors was seriously wounded and later died, according to the MININT note.
During the inspection of the detained boat, evidence was found of the use of firearms by the crew and the presence of drugs.
As a result of the shooting, the border guard troops unit was hit by several bullets.
Within the framework of the operational cooperation between the Cuban border guard troops and the U.S. Coast Guard, it was informed of the identification data of the detainees and the deceased and the characteristics and U.S. registration number of the vessel.
The information of the MININT points out that in both cases, the competent authorities are carrying out rigorous investigations to fully clarify the facts.
MININT concluded it s note that "Once again, regrettable events occur as a consequence of the  U.S. hostile and irresponsible policy against Cuba in migratory matters, which encourages human trafficking operations by unscrupulous elements residing in that country while hindering safe, orderly and regular migration."