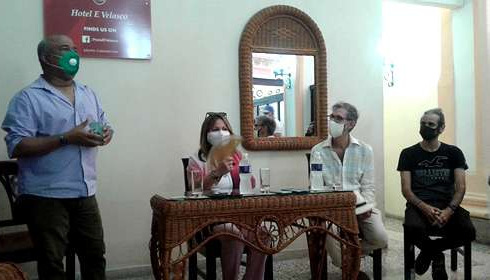 Liuba & Teatro de las Estaciones
Matanzas, May 11 (RHC)—Cuban singer-songwriter Liuba María Hevia works on a music video for the tune 'Nana a mi marioneta,' included in her album 'Travesía Mágica', released under EGREM label.
At a press conference in Havana, Liuba announced that the audiovisual material includes the special collaboration of 'Teatro de Las Estaciones' puppet theatre group, based in Matanzas province.
Liuba said the tune 'Nana a mi marioneta' is her homage to puppet theatre artists and their followers, particularly children, to whom the album 'Travesía Mágica' is dedicated. She further said that the album includes children's songs by renowned composer Teresita Fernández.
Rubén Darío Salazar, director of Teatro de Las Estaciones puppet theatre group, said working with Liuba María Hevia is a dream come true.
He said the music video for 'Nana a mi marioneta' will be released soon on digital platforms and social networks in times of Covid-19.
With support from designer Zenén Calero, and choreography by Yadiel Durán, the audiovisual is directed by Miriel Santana, Nestor Méndez and Ailenys Rodríguez with production by the Animation Studios of the Cuban Film Institute (ICAIC).