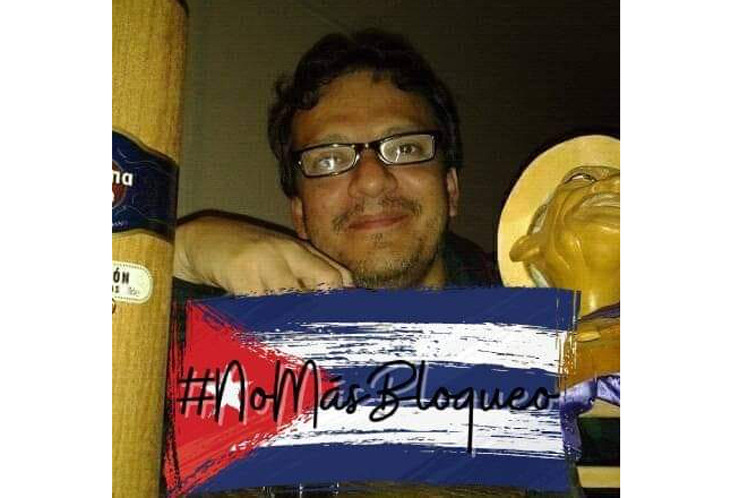 Peruvian musician Jorge Millones
Havana, July 21 (RHC)-- Artists and intellectuals from around the world continue raising their voices, expressing their support for Cuba against the latest destabilization plots against the Caribbean island state.
Peruvian trova musician Jorge Millones is one of them. He has just released the tune 'Cuba, La Soberana', a protest song in which he condemns the acts of vandalism and violence carried out simultaneously in different parts of the country, instigated by Cuba enemies outside the country.
In statements to Prensa Latina news agency, Millones said that he wrote the song after he learned of attempts to impose a so-called 'humanitarian intervention' for Cuba, which he says equals foreign interference in Cuban affairs. 'We all witnessed what the US-style 'humanitarian intervention' really meant for other countries around the globe,' said the Peruvian musician.
He said that the song is also his way to express his solidarity with and support for Cuba, calling it a beacon of hope for oppressed peoples around the world. The song pays tribute to Peruvian socialist leader José Carlos Mariátegui and Cuban Revolution leader Fidel Castro. It speaks about Cuba's solidarity with other nations and peoples and condemns the US blockade policy.
Regarding the situation in Cuba, he said the Covid-19 affects all countries, rich and poor alike. In the case of Cuba, the effects of the pandemic are compounded by nearly 60 years of economic hardship as a direct consequence of the genocidal blockade imposed and maintained by successive US administrations.
The song 'Cuba, La Soberana', or in English (Cuba, a sovereign nation) by Peruvian trova musician Jorge Millones is available on social networks. The artist said he has plans to record a new version along with other Peruvian musicians.
He further said that he understands those who need to express their discontent, but termed as 'opportunistic and irresponsible' that some are using the current situation as a pretext to promote foreign interference, much less military invasions against the Caribbean island state.
Peru's new president Pedro Castillo sent a message of solidarity with Cuba and demanded the lifting of what he called 'the inhumane, immoral US blockade.'
Last Friday, hundreds of Peruvians gathered in front of the Cuban embassy in Lima to express their solidarity with the Cuban nation and people, and their strong rejection of the US blockade and foreign interference in Cuba's affairs.