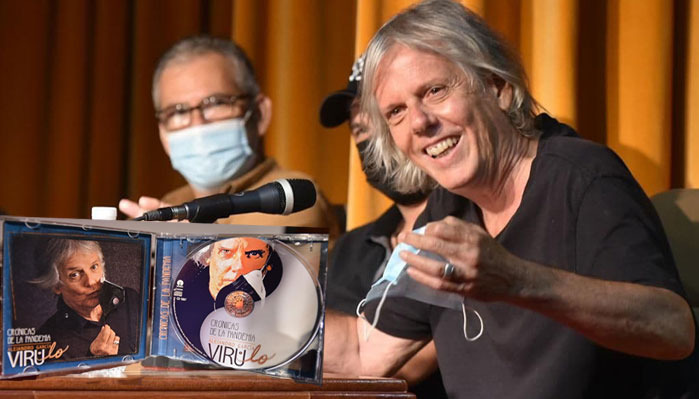 Virulo Crónicas de una pandemia
Havana, December 21 (RHC)-- The latest album by Cuban singer-songwriter and humorist Alejandro García (Virulo) was presented Monday at the headquarters of the Cuban Ministry of Culture.
Entitled 'crónicas de la pandemia', this new musical production, released under EGREM label, includes ten tracks, which the artist said reflect his own experiences over the past nearly two years, marked by the Covid-19 pandemic.
For this new project, Virulo counted on the collaboration of several other Cuban musicians, among them Kelvis Ochoa, Pancho Amat and his Cabildo del Son, Ray Fernández, Candido Fabré, Llilena, National Symphony Orchestra, National Choir, Conga de los Hoyos, Pupy y los que Son Son.
Featured genres include son, guaracha, conga, rap and ballad.
On hand during Monday's presentation of 'Crónicas de la pandemia' was singer and guitarist Yoel Martínez, a member of popular Buena Fe duo, with whom Virulo recorded the track 'Pórtate bien.'
The presentation served also to premiere the music video for the track 'Los negacionistas' included in this latest album.