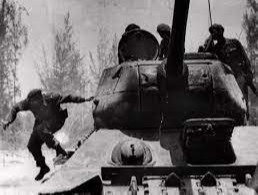 Fidel Castro leaps of a tank during the Bay of Pigs Invasion
Washington, April 15 (RHC)--In the United States, media outlets are remembering the Bay of Pigs fiasco, 60 years after the 1st defeat of US imperialism in the Americas.
Under the title Bay of Pigs has lesson for our time, an opinion piece in the Hill news website considered that the  scheme was straightforward and audacious: 1,400 U.S.-trained Cuban exiles would land at the Bay of Pigs and ignite a populist uprising that would topple the Revolution. Those hopes were quickly quashed.
The article added that the invasion resulted in an unmitigated disaster that made then US President John F. Kennedy suffer an embarrassing global setback. The text recalls, however, that the US defeat helped Kennedy a year later to reject the advice of his military chiefs during the Missile Crisis of October 1962.
In another opinion piece, Bloomberg news describes the attempted invasion as "one the most disastrous military operations in history."
Less than 72 hours after the invasion began, and then Prime Minister Fidel Castro announced victory. The mercenary forces ended up their incursion with a toll of 89 dead, 250 wounded, and 1,197 prisoners.